Baggage Claim was Funny and Predictable
10:25 PM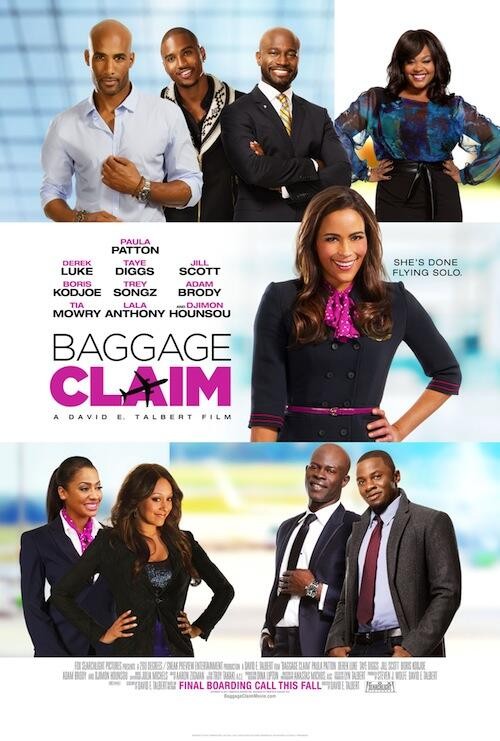 I was really excited to go see Baggage Claim ever since seeing trailers for the movie earlier this summer. It had a great cast and looked like a fun film to go watch. So Shannah and I went out opening weekend to a show. Baggage Claim is a romantic comedy that follows Montana More (Paula Patton), a flight attendant who feels the urge to get married after her younger sister (Lauren London) gets engaged. In a desperate attempt to find a man, she plans on revising her past exes hoping that one of them will eventually be the one.
The film gave us plenty of laughs. Montana ends up in some pretty crazy situations on her express quest to find love. Even though they're awkward for her, it's great for the audience. We were laughing along with the whole theater scene after scene of the film. Jill Scott's role as Montana's man crazy best friend will have you laughing as well with her crazy antics. But by far, Tia Mowry's scene was my absolute favorite part of the movie! I died laughing at her scenes in the film and wished she had been there more. There's also plenty of eye candy with Trey Songz, Boris Kodjoe, and more playing as Montana's exes.
My main problem with the film was that it was really predictable. As soon as the main characters were introduced we had already guessed how things would play out. The chemistry between Montana and her friends was a bit off to me as well. My last minor issue with the film was Montana's makeup. I wouldn't have been surprised if Montana had been working part time as a clown with all of that blush they used in some of the scenes.
Despite its faults, Baggage Claim was a good film that had us and the entire theater laughing all the way through.
I give this movie a solid 3/5. Baggage Claim is currently in theaters.
(photo source)